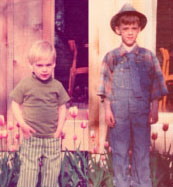 the Ostermeir brothers
Words on Music
is a young indie label based in Minneapolis. Founded in 1998 by brothers Eric and Marc Ostermeier, their first release came in March of '98 with Eric's own band
Motion Picture
.
Lush and serene,
Motion Picture's
music is played by Eric Ostermeier
(voice, electric and acoustic guitars, bass, drum kit, orchestration) and
John Rigg
(electric guitar, second voice)
with Merilee Klemp
(cor anglais),
Ingrid Liepins
(violin),
Josi Wergin
(french horn)
, and Sarah West
(cello).
Guitar and cello dominate this
Motion Picture
song -
I Know It Will Rain On My Wedding Day.
The label is also home to
Coastal
, a critically lauded Utah quartet of the
Slowcore
variety.
Coastal
eternal
+
northern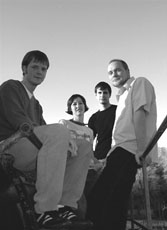 coastal
For Against, Fiel Garvie, The Meeting Places, Remnant Three,
and
Should
make up the low in number, but high in quality roster.
MP3's of almost the entire roster can be found
here.
"Summer 2004 releases for Words On Music include Halfway To You, Coastal's second album, and Echelons, the re-release of For Against's 1987 debut (first time on CD).

In September 2004 Words On Music will release a tribute album devoted exclusively to the Wire pop gem "Outdoor Miner." The album, A Houseguest's Wish, will consist entirely of versions of this Wire masterpiece from the 1978 7" single and Chairs Missing LP. Participating artists include Adam Franklin (Swervedriver), Lush, Flying Saucer Attack, Typewriter (Mark Bandola of The Lucy Show), Kick On The Floods (ex-For Stars), Timonium, Experimental Aircraft, Sharron Kraus and many more.

Forthcoming Words On Music projects include the re-release of a long out-of-print album by Factory Records-esque band Remnant Three, and the fourth Motion Picture album in early 2005."