The heart of American band Glasstown is Adam Klein and Michael Mullen, both published authors in addition to being the musical duo

Roman Evening

.

Glasstown

create rich music, pop music, yes - but rich, pop music - informed by men with more than 3 decades on this mortal coil. They write memorable tunes - in this case swirling with organ and strings, plus Klein's one-of-a-kind voice riding the 'End of our Understanding'melody like it was a ghostly-grey wave.


+
end of our understanding
courtesy glasstown.com
+ roman evening 3 tracks can be streamed or downloaded here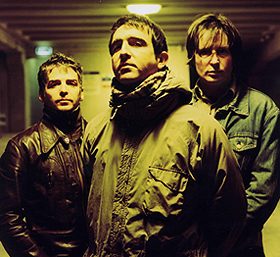 I Am Kloot
are a British trio, from Manchester, England who create idiosyncratic indie pop - helped in this aspect not the least by

John Bramwell

's fascinating voice delivering lines like '...there's blood on your legs, I love you' in their song '

Twist'

.
Listen to the throbbing bass in

"Over My Shoulder",

drive the song into a grey English Sunday morning filled with regret.
+
morning rain
+
to you
+
over my shoulder